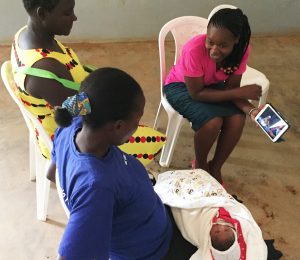 Our mother's education program gives mothers, fathers, and other family members the knowledge they need to keep their children healthy. 
Reach Everyone, No Matter How Remote
Our program makes learning accessible to just about anyone, anytime, anyplace. Traditional, in-person training leaves too many people behind. It is resource-intensive, doesn't happen often enough, and when it does, it often doesn't reach the people who need training most. Goal4.org uses short videos so anyone with a smartphone, tablet, or a DVD player can deliver content to wherever learners are – where they live or where they gather – clinic waiting rooms, women's group meetings, church events, village meetings, and even hair salons. 
Quality Content for Every Learner
Video lessons ensure that every learner gets the same high-quality content every time. Typically, when health education is taken to rural areas, it is delivered by groups of trainers who are several times removed from the subject experts. Trainers train trainers who train other trainers and so on. By the time it gets to rural learners the content is delivered by trainers with varying levels of understanding and varying levels of teaching skill. By using video, learners get consistently high-quality content no matter how or by whom it is delivered. The videos we use are brief – between 5 – 10 minutes long, are created by experts, and contain engaging, visual content that is easy to understand. The videos are created by Global Health Media Project, an amazing organization that specializes in health content for mothers and health workers in developing countries. Their videos are free to download for non-commercial use.
The content that we are currently delivering in Sega:
Newborn Care

Child Nutrition

Breastfeeding

Coronavirus
Always Available
The nature of video makes it endlessly scalable. For people who need (and crave) the knowledge, having a delivery network that makes it available to them again and again over time is invaluable and literally life-changing.